Late or missing student loan payments have serious consequences. In addition to the late fees you'll start to rack up, late payments on federal loans affect your credit after 90 days. After 270 days, your student loans will go into default.
If you're having trouble making your high monthly payments, the good news is getting relief is possible. If your loan servicer is NelNet, one of the several companies the federal government contracts with to handle student loan payments, there are three specific ways to lower your payments.
Let's explore the options.

1. Enroll in an income-driven repayment plan
As a perk to having federal student loans, one way you can lower your payments through NelNet is by enrolling in an income-driven repayment plan. There are four such plans, but all plans adjust your monthly payment based on your income (between 10% and 20% of your discretionary income) while increasing your loan term to 20 or 25 years.
This can it easier to handle your payments, especially when you're not making a high salary. As a bonus, after your loan term ends, any remaining loan balance will be forgiven — although you will have to pay taxes on the forgiven amount.
In order to enroll in one of the four income-driven repayment plans, you can visit NelNet.com, or you can apply through the Federal Student Aid website.
2. Consolidate your loans via NelNet
Another option is to consolidate multiple federal loans through a Direct Consolidation Loan. When you do this, you'll merge multiple eligible loans into a single, easy, payment.
Direct Consolidation Loans are also eligible for income-driven repayment plans and loan forgiveness after 20 or 25 years.
However, be aware that if you extend the term of your loans to get a lower monthly payment, you'll likely pay more interest over time. Another thing to note is that your consolidated interest rate (the average rate of all your individual federal loans) may be slightly higher than some of the original loans. It's calculated by taking the weighted average interest rates of all of your loans, and rounding up one-eighth percent.
You should also be aware that if you consolidate your loans, you'll reset the clock for Public Service Loan Forgiveness, if that's a program you're eligible for.
Because Direct Consolidation Loans are offered by the U.S. Department of Education, your loan will continue to be serviced your through NelNet. You can learn more about consolidation at NelNet.com and apply at StudentLoans.gov
.

3. Refinance through a private lender
If the first two options won't work for you, another way to lower your monthly student loan payments is to refinance your loans through a private lender. Refinancing can score you a lower interest rate and lower your monthly payment.
However, know that if you refinance to get a lower monthly payment, you may need to extend your loan term.
Here's how it can work for you: Let's say you currently pay $500 a month on a $50,000 loan. If you have a good credit score and refinance at a 5.69% fixed interest rate, you can lower your monthly payment to $349 a month.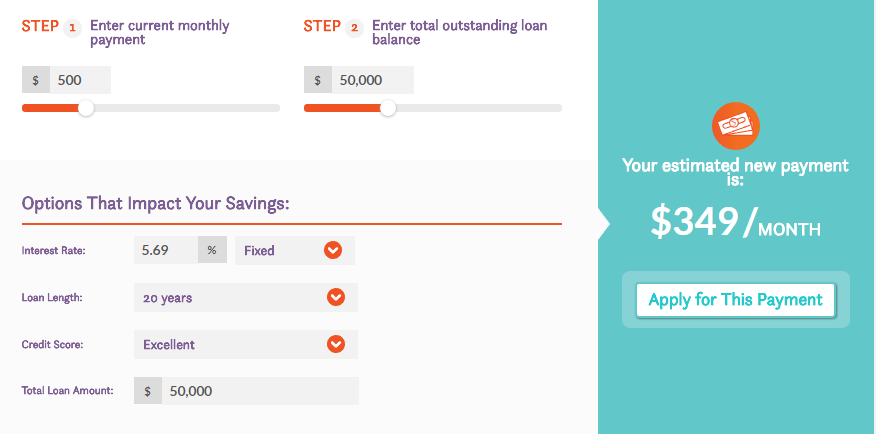 Check our Student Loan Refinancing Calculator to find out how much you could save.
Whichever path you end up taking, the first step is reaching out to NelNet. If your account is past due or you can't make make an upcoming payment, don't be afraid to call them. As your service provider, they're here to help. Learn more about the role of a service provider on the blog.